Hi All,
We did it…
On the 29th of March 2019, I started my Ironman journey. That run lasted just 4.54km at a pace of 5:53mins/km. In the 225 days between then and now, we've put in some work:
Total swim distance = 109,111m over 70 swims
Total cycle distance = 3,271.8km in the saddle over 132 rides
Total run distance = 1,188.9km over the course of 119 runs
The swimming was boring, the cycling was new and time-consuming, and the running was painful, but it had to be done. I think in hindsight, I can confidently say that I was out of my depth. But then again, that was the whole point. To push the barriers of what I believed to be possible.
On December 1st 2019, I completed the Busselton Ironman. The experience of embracing my loving family, as well as my closest friends at the finish line is one I will never forget. I was overcome with emotion and it is the greatest moment of my life. Everyone that was there waiting for me at that finish line made the true sacrifice in dealing with my utter single-mindedness throughout this entire ordeal. Without their support for the whole year, in particular from my beautiful girlfriend Lexie, my loving family Debbie, Sandy, & Annie and Lexie's parents Cam and Georgy, I could never have made it to the start line, let alone the finish. From the bottom of my heart, thank you.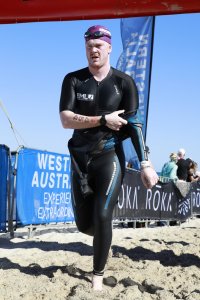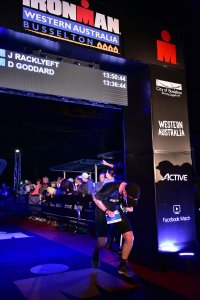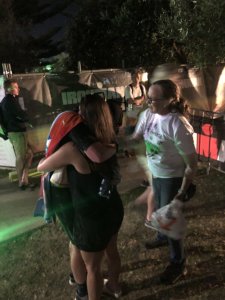 The Cooper Rice-Brading Foundation entered my life shortly after the start of my training. The foundation gave me purpose, something to remind myself why I was putting myself through this. Tania Rice-Brading is potentially the most dedicated person I have ever met. The moment I first heard from her, I knew that this was the foundation for me. I'm honoured to have ever met you and to have been able to help raise money for this wonderful foundation. I hope that this is just the beginning.
There are so many people to thank for helping me along the journey, I will do my best to list everyone below. If I've left you off, please get in touch and let me know!
The Busselton supporters; Leixe, Monty, Stu, Cavill, Kirk, Dorms, Luke, Georgia & Mealz. When push came to shove on game day, I needed you and you gave me the will to persevere. I could not have done it without you, thank you.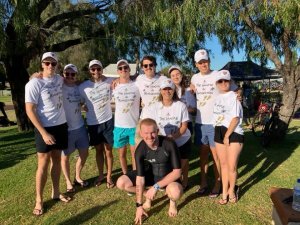 Once again, everyone at the Cooper Rice-Brading Foundation; particularly the Rice-Bradings and Jack Gibson. The commitment to help your special foundation, and the joy and happiness this foundation brought to me throughout the entire year was one of the biggest factors for me completing this journey. I am blessed to have entered the CRBF family. This is just the start! Thank you.
My coaches; Hamish Gorman (conditioning), Rebecca Hay (nutrition) and Adam Kable (swimming). You kept me going and focussed when I was getting lazy, thank you.
The mechanics who took care of my bikes; David, Ali and Ben at Chainsmith Bikes. As well as Mark at Vanilla Cycles. I could not have come into the race trusting my gear more, thank you
For the sponsorship help and advice throughout the journey; David Cobb, Jonathan Pepper, Tyron Bicknell and Ross Bateman. Thank you
If you haven't already, please visit my donorbox page and donate. We've raised more than $15,000 over the course of the year, one final push could get us to nearly double the target I put up when we first started!
https://donorbox.org/jack-s-ironman-for-sarcoma
Over and out from me, thank you all for your support and I hope everyone can take away some message of hope and excitement for every ounce of life, that's exactly what the Cooper Rice-Brading Foundation is here to achieve.
Jack