A massive last week of training and fundraising!
With the help of CRBF and the generous support of the Forest Lodge Hotel, we hosted a Trivia Night last Thursday to continue the fundraising for the foundation. A few highlights from the evening:
1st Place = Racklyefts (I'm told that a few members of the team carried my dad in this team)
Most Table Donations = The Prancers with the Answers (nearly $300 donated)
Best Name = 50 Shades of Spay
The generosity on the night was tremendous. I cannot thank everyone enough for coming along to support such an amazing cause. A special thank you to Fitzy & Wippa, Dr Chris Brown, Hamish Blake, Jack Maddocks, Paul Roos & the Sydney Swans for their celebrity questions! In total, we raised $2,032.00 on the night which is going straight towards research into sarcoma! Well done to everyone and thank you so much once again!
The fundraising effort is now up to more than $10,000. The support has been unbelievable and with 3 months still till the event, there's plenty of opportunity to keep growing that number further!
Thank you!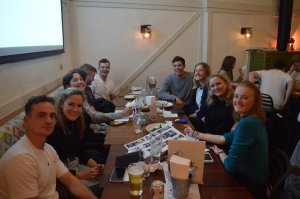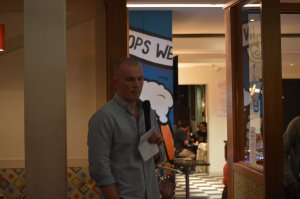 TRAINING:
Training-wise, a slight tweak in my lower back held back my routine for the weekend frustratingly. However the training during the week was solid, with just under 10 hours of work done.
It was an exciting week in sign-ups however! I signed up to a couple of triathlons and an open water swim which really confirmed how close we are getting to the actual event!
19th October – Forster Triathlon (2km swim, 60km cycle, 15km run)
26th October – Husky Big Swim (5km swim)
3rd November – Huskisson Triathlon (1.5km swim, 40km cycle, 10km run)
Three weekends in a row of triathlons/big swims will be the perfect trial runs for the actual event. It will be the perfect way to practice my transitions and swimming in the big pack! Keen!
Next week I'll lock in the actual event!
13 weeks until game day!
As always, if you have any suggestions or ideas to help raise awareness for sarcoma research and/or the work CRBF do, please shoot me a message on social media or via email (jack.racklyeft@gmail.com). Please share this, or any information from my donation page below to anyone and everyone you can. I have no doubt that slowly but surely, we will start to raise awareness and to make a truly positive change:
https://donorbox.org/jack-s-ironman-for-sarcoma