Jack Gibson
Sarcoma Patient & Family Support
Programme
What we do…
CRBF is dedicated to significantly improving treatment options, optimal patient pathways, and survival outcomes for young sarcoma patients.
We do this in three important ways by:
• Raising vital funds for critical and innovative clinical research;
• Providing practical and personal guidance to support sarcoma patients, and their families, throughout treatment; and
• Raising awareness among health professionals and the general public to promote early detection and diagnosis.
CRBF patient support is in place for those who have been diagnosed with sarcoma, and their families, providing national support in a number of "non-menu" ways. We tailor our patient support programme to suit the individual, and all communication is strictly confidential.
An example of the assistance we have provided over the past five years includes but is not limited to:
Peer support, a warm and empathetic person with lived-experience
Patient kits for newly diagnosed patients across Australia
Out of pocket expenses for IVF
Assistance in bridging the gap for experimental therapies
Grocery cards
Petrol cards
Assistance with gap payments for expensive medical procedures
Incidental expenses incurred as a result of sarcoma treatments
Practical support ie carer support, assistance navigating government agencies
Provision of meals
Assistance for those needing specialised equipment ie beds, oxygen, walking frames etc
The Fergus McCulla Psychological Support Programme (free of charge to sarcoma patients and families)
The Tom Hardyman Sarcoma Support Telephone Service (to be launched 2022/2023)
Patient advocacy with medical teams and government organisations
Funeral expenses for those in financial hardship
Our growing patient support programme headed by Keith Cox OAM, a recognised Australian expert in nursing support for young cancer patients, and joined by Mitchell Rice-Brading, Patient Care co-ordinator, will provide practical and personal guidance to support patients upon diagnosis and throughout treatment.
It is with greatest pride we launch the Jack Gibson Sarcoma Patient & Family Support Programme, in memory of a young man who touched the lives of so many.
Jack Gibson tragically passed away on November 1, 2022, just over a week prior to his 26th birthday. He had valiantly fought osteosarcoma for five years, and a significant portion of that time was also devoted to improving patient care pathways and support mechanisms for those living with sarcoma, as the CRBF Patient Advocate.
Jack's lived experience, and his deep knowledge of the vast array of unmet needs that exist as a result of a sarcoma diagnosis informed the early phase of the CRBF Patient support programme. This national programme continued to grow annually under Jack's supervision, currently supports over 250 patients, and their families, and is funded by the generosity of the Australian community.
Those who knew Jack, also knew his optimism, positivity and hope for the future were all emblematic of who he was and how he will always be remembered by his family, friends, and those who admired him from afar.
Jack worked closely with Keith Cox OAM, to not only devise the programme, but to successfully convince our Board of the need to extend our priorities to the patient and their families, and to provide the sizeable funding required to support a programme of this nature.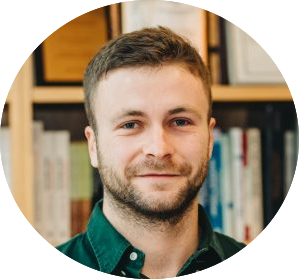 Mitchell Rice-Brading – Patient Care Navigator
Mitch is Cooper's much loved older brother, and he formed a critical part of Cooper's team of palliative carers. His first hand experience with regards to the specific needs of young sarcoma patients is vast, comprehensive and very personal.
At 23, Mitch completed an undergraduate science degree, majoring in psychology at the University of Sydney, followed by his Honours year completed in 2021 with a view to completing a Masters or PhD in Clinical Psychology. He is a provisionally registered Clinical Psychologist.
Mitchell volunteers as a trained mentor with Feel the Magic, an organisation dedicated to providing early intervention grief education programs for kids aged 7 to 17, who are experiencing pain and isolation due to the death of a parent, guardian, or sibling.
Mitch also volunteers his time with CRBF, to assist young patients and their families with an array of practical matters they may experience throughout treatment, thus providing a solid platform in which to be heard.
Keith Cox – Medical Advisory Board/CRBF Director
Patient Support Medical Consultant
Keith was the Oncology/ Chemotherapy Nurse Practitioner at the Chris O'Brien Lifehouse until the end of 2017, after some 38 years in cancer nursing. He now remains involved in a consultant role.
Keith is a Senior Clinical Lecturer at the University of Sydney, and is an Accreditation Assessor for the Australian Nursing and Midwifery Accreditation Council (ANMAC)
As a Nurse Practitioner, Keith bore a greater responsibility than a regular nurse, prescribing medicine, ordering tests and screenings, and the referral of patients to other medical professionals.
Keith was awarded an Order of Australia Medal in the 2007 Queen's Birthday honours list for his services to Cancer Nursing, his work with youth and his volunteer work.s
Tania Rice-Brading – Patient & Family Care Coordinator
Tania Rice- Brading will often be the first point of contact within CRBF. She is an experienced sarcoma patient carer with seven years of lived experience, both with her youngest son Cooper, and through becoming the first line contact for hundreds of patients and family members.
Tania is passionate about her role within CRBF, having worked closely with the patient support team to identify the unmet needs that exist for those diagnosed with sarcoma in Australia.
If you, or indeed someone you know, is in need of support after receiving a sarcoma diagnosis, please contact our patient support team by using the form below, or via phone 0412239020 or 02 9357 5378