Early in 2017, I received a message from one of Mitch's close friends at St Pauls College, Sydney Uni, to let me know there were boys from the College undertaking fundraising for Chris O'Brien Lifehouse on behalf of Cooper and another young sarcoma patient, Jack Gibson from Sydney Uni, who had then recently been diagnosed.
I was torn. Such generosity of spirit by the boys at this college, many of whom had known Cooper since he was an eleven year old, yet it was accompanied by such devastating news of yet another young life, and another family affected by this insidious cancer. I offered whatever support I could to the family through the College, whilst acknowledging this family's likely need for privacy. A sarcoma diagnosis has the propensity to rock even the strongest of individuals, lives, and families to the core. It is savage, relentless and life-altering.
At that time, unbeknownst to me, there were in fact two fundraising events that had taken place, involving students from St Paul's, St Andrew's and Wesley Colleges, together with many students who were not attending the university, but were friends, or had a close association to the cricket club. The latter groups were very close to Jack, his younger brother Harry, and the Gibson family. This culminated with the shaving of heads in the St Paul's bar one night in a very personal statement of support to Jack. As Suzie, Jack's mum described it so beautifully – the gesture " was about so much more than fundraising for us. Jack's brother, his friends from school and cricket were all devastated when he was diagnosed with cancer and felt totally helpless. They wanted to do something to help but didn't know what. They recognised he needed their support and when he started to lose his hair as a result of his treatment, they realised how confronting this was for Jack so they all immediately decided to shave theirs as a show of support and solidarity, whilst raising an outstanding sum of $36,000 for Chris O'Brien Lifehouse, where Jack received his treatment.
Cooper at this stage had not responded to mainstream treatments, and we were frantically sourcing global clinical trials and treatment options. It was indeed a stressful time, yet I clearly remember my thoughts had wandered to this young patient and his family so often. A young man with the same cancer, treated at the same cancer hospital, a similar age, the same passion for sport and attending the university Cooper intended to attend, following in the footsteps of his older brother. The similarities were there, yet even within the same sarcoma subtype, outcomes can differ greatly.
Jack's name would come up regularly over the months ahead, as it turned out, so many members of our social circle overlapped into Jack's world. We were able to keep abreast of his progress and to eventually know his treatment had been successful. I remember the overriding feeling of joy and relief I felt, when this was confirmed by his mum Suzie.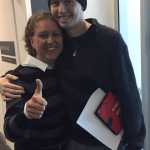 Jack has an extraordinary family who have been by his side his side throughout his sarcoma journey. Their love and support has never waned, and despite the hell they have experienced at the hands of this cancer, they are simply the loveliest people you could ever hope to meet.
September of this year , we held our Chairman's dinner, hosted at the NRL Museum, NRL HQ, and Jack selflessly agreed to speak to our high profile collective of guests, about his diagnosis and subsequent gruelling treatment. In doing so, He captivated our guests, providing them with valuable insight into the life of a sarcoma patient. This was the first time Jack had spoken publicly of the road he had travelled, and to do so, showed such courage and bravery. You could hear a pin drop in the room as this articulate young man spoke.
It is such a great privilege and honour to welcome Jack to our Executive Committee, and each of us is looking forward to working with this amazing young man, and to make a quantifiable difference to those patients living with a sarcoma diagnosis.