Happy Tuesday everyone,
A big week for training. Some hard, fast runs, as well as a great Sunday cycle and two big swims made it one of my biggest thus far.
I also met up with one of Colin Rice-Brading's good friends Ross Bateman, who's extremely well-versed in the triathlon experience. We met during the week and discussed his tips and suggestions based on my training thus far. This kind of inside info is extreeemely important and I can't thank you enough Ross! I'll be in touch soon no doubt!
CYCLING:
Nothing too special to report
Completed a 95km ride on Sunday in good time (averaging 32km/h around the loop). My speed was good and consistent for the whole duration which is extremely positive. The Centennial Park loop will be getting a serious workout for the remainder of my training weeks going forward I suspect! Stu joined for the first hour and a bit, which always makes the ride more do-able. The last couple of hours were difficult but when I upped my carb intake I found my performance really improved.
RUNNING:
Completed lots of 10km runs this week, topped off with an extremely difficult 15km run on Friday afternoon around the hills of Lexie's Mackerel Beach place. The first 3km went up 180m in elevation, resulting in 360m of elevation gained for the entire run! To put that in perspective, the ENTIRE ironman race run over 42km will only gain around 200m of elevation!
It was great to do this run though as it really tested me mentally as I was shattered within the first 3km. I had to endure for the rest of the run, whilst still encountering numerous big hills. Overall it was a really tough workout and another good one in the books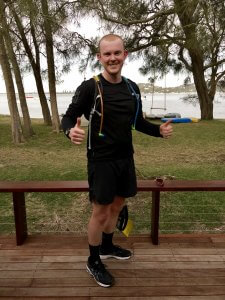 SWIMMING:
Once again completed two swimming sessions, but this time they were 2200m and 2500m, both in great time.
Felt far more motivated to do the swims which really helped. I'm feeling like I could continue swimming on indefinitely after all these which is a great sign. Still definitely need to get out in the open water, but without a wetsuit it's just not do-able at this stage!
14 weeks til game day! Coming in quicker and quicker. Another big week ahead, followed by a "rest" week where I'll go at about 75%!
As always, if you have any suggestions or ideas to help raise awareness for sarcoma research and/or the work CRBF do, please shoot me a message on social media or via email (jack.racklyeft@gmail.com). Please share this, or any information from my donation page below to anyone and everyone you can. I have no doubt that slowly but surely, we will start to raise awareness and to make a truly positive change:
https://donorbox.org/jack-s-ironman-for-sarcoma