Hi Everyone,
Good week for training this past week.
Had another nutritionist meeting with Rebecca Hay which was great. The main purpose of today's meeting was to sort out my fluid intake, based off my weight measurements before and after each discipline (i.e. recording how much water weight I'd lost in sweat). Essentially, I sweat lots, or as Rebecca described it, I'm a "large liquid loser" which I'm not a massive fan of. What that means is that I need to be taking a lot more water on board throughout my race to ensure I'm able to perform at my best. Exact details and amounts will be revealed in upcoming blog posts!
CYCLING:
With cycling the main focus in terms of room for improvement, I've been aiming to get my speed up for longer distances and work out what pace I would eventually like to go at for the entire 180km race length. The weekly cycles were the following:
Tuesday morning 2hr cycle at Centennial Park
Thursday morning 1.5hr cycle at Centennial Park
Saturday morning 3hr cycle at Centennial Park (30km/hr average pace, including the slow trips to and from!)
The Saturday cycle had to be cut down to accommodate morning coffee for Lexie's Birthday. In the off chance she's reading this, it was a sacrifice I was 100% willing to make and I would do it a million times over… Happy 25th!!
I was really happy with the Saturday session. Once I arrived at Centennial, I was able to work on going hard and fast for a longer period of time. My heart rate was never too high and my nutrition and fluids were going down really well. Overall really happy with the week's cycling!
I also had the privilege of meeting with Davide, Ben and Allison from Chainsmith Bike Shop in Surry Hills. Thanks to the connection and sponsorship from Jonathan Pepper, I was able to get a proper bike fitting, which ended up in me also getting a new pair of Chainsmith bib knicks and some new shoes (old ones turned out to be a size and a half too big)! I can't thank the team at Chainsmith enough and I'm looking forward to coming back soon to get fitted for the TT Bike!
I'll look to tag along with any cycling crew that will have me in the coming week(s)! I need to learn how to ride in groups, and having the team around me will:
Force me to get up early to train
Push me harder during the sessions
Allow me to get more cycling done!
Any suggestions of bunches who would be happy to have a relatively inexperienced young cyclist, please get in touch
RUNNING:
Big run on Sunday (32ish km) in good time. I was again, super happy with the pace, finish with an average of 5mins 10seconds per kilometre. The route took me down near Rochdale and nearly three hours, but we got there in the end! Other runs in the week included:
10km run on Tuesday
10km reverse loop run on Thursday
10km run on Friday
Massive week for running eventually, completing over 60km in the week which is awesome. The running is well on track!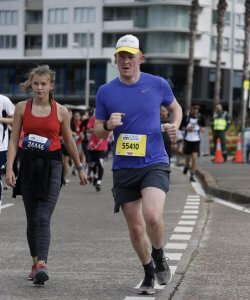 SWIMMING:
Boring, but another 4km done over the course of the week.
Thinking that I'll bump up the session distances from 2km to 2.5km. We'll see how we go!
FUNDRAISING:
Including the house event, we're up to $8,000 which is incredible! I cannot thank everyone enough for their continuous support! There's still so much time and I think we can do something really special!
In terms of upcoming events, with the help of Forest Lodge Hotel, we'll be hosting a Trivia Night on Thursday the 29th of August to continue the fundraising effort! We've had a lot of interest and with only 4 tables left, it will sell out this week.
Please touch base with me by Thursday this week to confirm your team and lock down a table! At $100 per table of 6-10 (which includes some pizzas, wings and salads!) it should be a ripper evening!
15 weeks until game day!
As always, if you have any suggestions or ideas to help raise awareness for sarcoma research and/or the work CRBF do, please shoot me a message on social media or via email (jack.racklyeft@gmail.com). Please share this, or any information from my donation page below to anyone and everyone you can. I have no doubt that slowly but surely, we will start to raise awareness and to make a truly positive change:
https://donorbox.org/jack-s-ironman-for-sarcoma