Monday – Strength Session
The public holiday on Monday meant I could relax while going through the session. Quite enjoying these and I try to have a big stretch afterwards which helps with recovering from the weekend's big runs/rides.
Tuesday – 1:00 Swim, 0:30 HR Run, Conditioning Meeting
Had a great skype session with Hamish Gorman regarding my conditioning program. The biggest takeaway from the session was that I needed to massively up my time on the bike. The rule of thumb of a minimum time I should be spending on the bike (and run) per week was the total time I'd be on the bike in the race. At this stage I'm estimating 6.5 hours, so really I should be cycling for at least 7 hours a week… I have not been doing that at all (closer to 4 hours).
Following the meeting, I did my usual swim (extremely boring but swimming well) and then completed a 30min run, trying to stay at 172 bpm. It had to do with staying at my threshold heart rate so that Hamish could better calculate my proper heart rate zones.
I've included my updated conditioning plan below:
Morning
Evening
Monday
REST
Strength Session
Tuesday
REST
Swim

10km Run (5:20 pace easy)

Wednesday
10km Run (4:55 pace) – increase pace each week x 4. RPE 7
1.5 – 2 hour cycle (try to incorporate 2 x 20mins @155bpm w/5min active recovery)
Thursday
Swim
1.5 – 2 hour cycle (try to incorporate 3 x 10 min @160bpm w/5min active recovery)
Friday
Swim
10km Run (5:10 – 5:20 pace easy)

Strength Session

Saturday
3-4 hour cycle
REST
Sunday
1.5 – 2 hour (5:00 pace, extending time each week)
REST
Wednesday – HIIT Session (Boxing), 2:15 Cycle
Incorporating Hamish's main suggestion from yesterday's meeting, I planned on doing a big ride after work. The Garmin app has a useful 'routes' function where I can chuck in the distance I want to go (at this stage I'm predicting 20km/h travel speed) and it will upload a route onto my watch to follow. The function also avoids roads which aren't great for cyclists (i.e. Parramatta Road, freeways, etc). Today's ride took me out to just beyond Lidcome and was moderately dangerous…
Thursday – 1:00 Swim, 2:00 Cycle
Another boring, boring swim but once again, feeling "efficient"…
The routes app spat out a slightly different route out west this time which was great, but it seems my watch can only save/store X number of direction changes because at nearly exactly halfway, the route stopped coming up on my watch. After a small break and deleting a few routes from the watch, I was able to re-upload a new one to get me home. As my nutritionist suggested, once I'm getting up near that 2 hour mark and beyond, I need to have some fuel on-board to have at around the 45 minute mark to sustain me. Near the end of the rides these past two days I've really noticed a drop off in energy.
Friday – 1:00 Run, Strength Session
Jogged home from work and back across to the gym near Wynyard. The run felt great and was cranking out some great time with minimal HR increases.
Foolishly, I wore my "running" style shorts for the run, without remembering to bring any shorts for the weights session. My running shorts are notably tighter around my "weak trunk" so as to hold my phone more securely for the runs. The issue is that trying to use said shorts to improve my aforementioned trunk will undoubtedly result in my splitting my pants during a squat. As such, I had to forego my squats. Despite that, it was still a great session and the control exercises with the bands and exercise balls are going really well.
Saturday – 3:00 Cycle
My longest cycle of training yet and it was definitely my best yet. My average speed was higher on this ride than it was on the two previous this week. The route my Garmin decided to send me on was also a lot safer and hence, more enjoyable. I would define safer as the routes with the least traffic light stops in dense traffic, where me failing to properly clip into my cleats has somewhat higher consequences… Uphill stationary starts at lights, in heavy traffic are the worst for sure.
The cycle loop took my out to near Cabramatta, through the Olympic Park area where the wide open spaces mean I can really enjoy my cycle without having to worry about being flattened.
I only brought one energy gel and one water bottle which I will definitely have to increase going forward. Around the 2 hour mark, even with the energy gel I started to hit a bit of a wall. One more gel at around the 1.5hr mark will hopefully get me through going forward.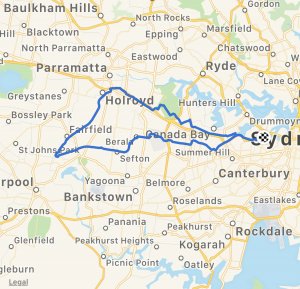 Sunday –1:30 Run
After a monster rainfall Saturday night and all morning, I pumped out a great run on Sunday afternoon. The goal with the Sunday runs going forward will be to try and stay at my expected race pace (around 5:10min/km) and week by week, increase the distance I'm going. This week I got out to nearly 17km, but at 5:00 pace which I was surprised at when reviewing afterwards. My HR also stayed at an average of 164 which I was stoked with.
Great signs for the running, especially this far out with so much room for improvement.
22 weeks until game day!
This week I'll be looking to fully complete all of the new elements of Hamish's conditioning program, with a bit more of a focus on getting the right nutrition on board before and during the trainings. Overall, feeling good, no niggles or anything and I'm getting some good results across the board in terms of swimming efficiency, cycle speeds and running pace so can't complain!
As always, if you have any suggestions or ideas to help raise awareness for sarcoma research and/or the work CRBF do, please shoot me a message on social media or via email (jack.racklyeft@gmail.com). Please share this, or any information from my donation page below to anyone and everyone you can. I have no doubt that slowly but surely, we will start to raise awareness and to make a truly positive change:
https://donorbox.org/jack-s-ironman-for-sarcoma