Monday – 1:40 Run, Strength Session
Following up from last week's post where I didn't do the Sunday run, I shifted it on to today to start a massive week of work. The route took me west, out to near Strathfield, then back in a loop home.
Felt really good during this, despite my headphones running out of battery at the halfway mark. It wasn't the end of the world, especially considering I can't use them in the actual race, but it definitely dinted my momentum a bit. I found myself at around the 13km mark utterly convinced that my good performance on this run was going to mean success on December 1st. The loss of music pulled me back into line, but still finished the 21km run having gone at 4:55 pace which was great.
Tuesday – 1:00 Swim, 10km Run @ 5:20 Pace
Swim felt good today for some reason. I was heaps less bored than I was last week which was a pleasant surprise.
The run was slow and steady to help recover from yesterday's big run. Despite the big one yesterday, I wasn't really sore or in any pain which is awesome. If nothing else, I'm getting better at backing up from session to session.
Wednesday – 1:15 Indoor Cycle, 10km Run @ 4:50 Pace
Big session
The indoor cycle really took it out of me, but managed to complete a couple of long interval periods during (2 x 20mins @155bpm) which Hamish recommended.
Going into the run, my legs didn't feel too back, but I just found it frustrating hauling my work bag around with all my gear which makes my shoulders and neck really tight. Dumped the bag at home and finished off the remaining 30mins at 4:45 pace. Had a yoghurt before starting this one which didn't sit amazingly…
Thursday – 1:00 Swim, 1:15 Indoor Cycle
Had my pre-workout before doing the swim which made a massive difference. For those who haven't had any before, it kind of just makes your body feel quite tingly and hot, which meant that during the swim I had a lot of energy and mainly just something to help tick my mind over. I did 2 x 1000m sets which went really well.
Having finished at work late before doing the swim, I decided to do my cycle on the indoor bike to save time. I polished off a banana immediately after my swim, before hopping on the bike which make a world of difference. Coming into the final 25 minutes, I felt extremely motivated and ready to push on which was a great sign that the banana was working its magic. I also don't think I have ever sweated as much in my life as I did in this one session. It was truly heinous.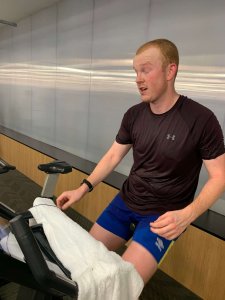 Friday – Nutritionist Follow-up, Strength Session,
Met with Rebecca again to revaluate the nutrition plan with Hamish's new conditioning plan. The major takeaways from today's meeting were:
On long cycles, from the 45min mark, I need to be consuming 45-60 grams of carbs every hour (incrementally over that time). In terms of food that this equates to, it's like having 1.5-2 peanut butter sandwiches every hour.
Between sessions where I jump from a swim for example, straight into a bike or run, I need to ensure I'm getting something on board
During the swim, I should try to have a couple of bottles at the end of the pool. An energy drink and water, sipping on the energy drink every 10-15 minutes to keep me focussed and chugging along.
With the fundraiser planned for this evening, I only had time for the one session today. Despite the big indoor cycles the past two days, my legs were still feeling fine. The leg workouts are progressing each time and are one of my favourite sessions, despite taking an age to do.
The fundraiser went amazingly. Through the generosity of my friends, CRBF and family, we were able to raise over $600 through raffle tickets alone. This was an amazing achievement and will take the total Ironman fundraising total to approximately $7,400 now! Big thanks to everyone who came, in particular Georgia and Kirsten who helped assemble the incredible food platter, and my housemates for taking time out of their week to fully set the house up for the event.
Saturday – 3:40 Cycle
Easily my best cycle of the training so far.
Initially went out to Iron Cove and did 5-6 laps of the waterfront there until I got bored. At around the 1hr 15min mark I moved on and cycled out to Olympic Park to continue doing loops. Similar to the Iron Cove loop, the nice wide, open spaces reduce the stress levels tenfold.
Nutrition-wise is where I need to improve. I had two slices of peanut butter toast and I only brought one gel which I had at the 50 minute mark. Whilst this definitely helped, at around the 2hr 30min mark I was absolutely starving. I eat so much normally, but I genuinely cannot remember being this hungry in a long time. A stop at the Olympic Park Ice Rock Deli at 9:30am was certainly not out of the question…
Despite that, I still make good time and felt strong. I feel that sitting at 30km/h for the majority of the cycle, given it's on flat with no cars or buses at traffic lights to kill me, is certainly a possibility. This would mean I'd only be cycling for 6 hours straight…
Sunday – 1:50 Run
Big run with heaps more elevation than last week (300m vs 180 last week). Today's route took me East, out around to Rose Bay and back along Cleveland St. Despite the far greater elevation rise, I still ran at approximately the same pace (4:55min/km) which I was really happy with, despite going another 2km further. Similar to the above cycle though, I struck issues at about the 1hr 30min mark when I hadn't had any water for the whole run and started feeling dizzy.
Thankfully I was able to stop at a Moore Park bubbler next to some horse crap to get my fluids topped up, but it was certainly a lesson that I need to plan where my drink stops will be moving forward.
21 weeks until game day!
Plan for this coming week is to really hit some big distances, before backing it down a little next week for a recovery week.
As always, if you have any suggestions or ideas to help raise awareness for sarcoma research and/or the work CRBF do, please shoot me a message on social media or via email (jack.racklyeft@gmail.com). Please share this, or any information from my donation page below to anyone and everyone you can. I have no doubt that slowly but surely, we will start to raise awareness and to make a truly positive change:
https://donorbox.org/jack-s-ironman-for-sarcoma