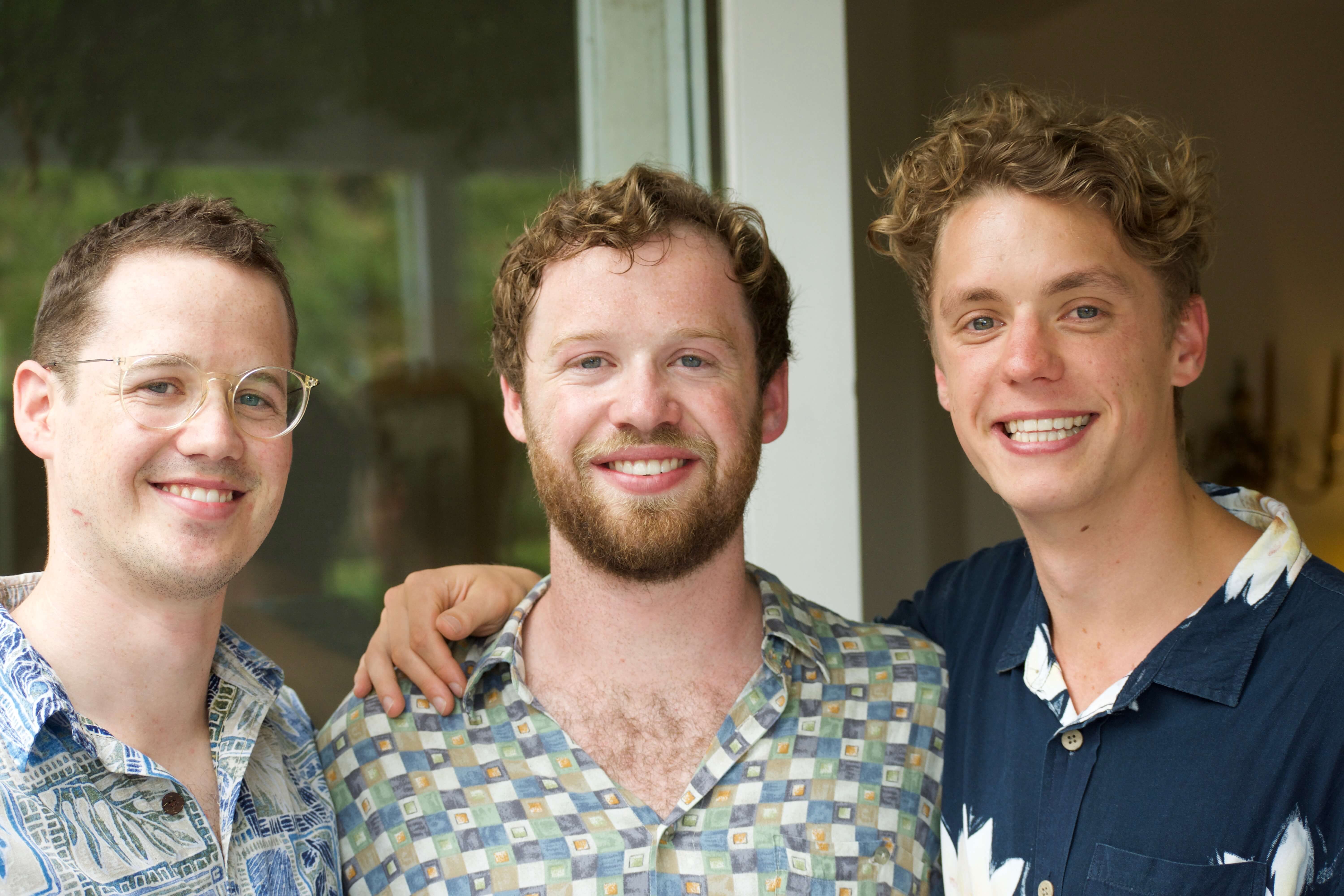 Matthew & Chris Watson with friend Sam Gilbert
The Watson family are impressive by any standards. Professor John Watson is an eminent Sydney Neurologist, Senior Vice Dean of the UNSW Medical Faculty, and a former Rhodes Scholar, who now is the Deputy National Secretary for the Rhodes Scholarships in Australia. His wife Julieanne is not only a very busy mother of four, but she holds an array of impressive qualifications which sees her professional life working with the Australiana Fund, preserving and acquiring a permanent collection of Australian artworks, which furnishes the official residences occupied by the Governor General and Prime Minister of Australia. When they are not devoting time to their four sons, and their respective careers, they are helping others in a multitude of ways. Their reputation for giving is well recognised amongst those who know them well.
Family is everything to John and Julieanne, and it is hardly surprising this power couple have produced four boys who are carbon copies of their parents. Matt 29, Chris 26, Tim 22 and Peter 16, are each already making their mark on the world, and they too have been taught the value of hard work, giving back, and being the best version of yourself.
Our family has known the Watsons for over a decade, due to friendships formed between our sons at Sydney Grammar School. Our eldest son Mitch, and Tim Watson have been the closest of friends for many years. When Cooper was diagnosed with osteosarcoma, the family were the first to offer anything and everything to make life easier for him, and for us. Put simply, they are the friends you need to have when your world is crumbling around you.
In 2016, Chris Watson offered to tutor Coop for HSC, whilst in hospital. He was in Year Eleven and the rigours of chemotherapy made study very difficult. Chris was instrumental in devising ways Coop could continue study, without overtaxing him, and allowing him to keep up with HSC commitments. Nothing was ever any trouble to Chris. The sad reality was, Coop was in a state of decline, and study eventually took a back seat to survival.
In November of 2018, I was overseas and received a most unexpected text message from Chris, who is studying a Masters in Genetic Research, advising me of his intention to swim the English Channel, with brother Matt and their lovely friend Sam Gilbert. The three young men, who are all working in, or studying medicine and science, had under their own volition, opted to undertake this gruelling swim, and direct funds raised from the swim, to the Poche Centre for Indigenous Health where Matt and Chris have helped as volunteers and participated in fly-in fly-out clinics to remote communities, and to our very own CRBF. Not surprisingly the rest of the Watson family also volunteer with the Poche Centre, with Tim . We were totally humbled by the gesture.
By means of background…
Matt Watson is 28 and currently working as a Resident at the Fiona Stanley Hospital in Perth, and has a strong interest in Indigenous Health issues, having done fly-in fly-out clinics with the Poche centre. Matt studied a Bachelor of Commerce, and then MB BS at USyd, and is marrying his wonderful fiancee Sofie next month.
Sam Gilbert, 27 is currently working for biomedical engineering company, developing products with the hope of helping spinal injury patients to regain more function than currently possible. Sam studied a Bachelor of Engineering Honours (Biomedical) at USyd, and is also a wicked chef.
Chris Watson, 26 is currently doing an MPhil, doing research toward treating genetic diseases of the brain at the Children's Hospital Westmead, and will complete his medical course, an MD at USyd in 2019. Chris also studied a Bachelor of Science, with an Honours year and the University Medal in neuroscience.
On February 2nd this year, the English Channel Swim was officially launched at a superb event in the magnificent gardens of the Watson family home, complete with magnificent catering, and a superb jazz band with music provided by Will McInnes, Rob Christian, Sam Rochlin and Ben Daniel. Over 100 guests gathered to lend their support to these outstanding young men, who are preparing for the gruelling swim in July.
The Channel is a swim of about 44 km that can vary wildly depending on tides and conditions. The boys expect to take around 13 hours non-stop, and are currently training 10-12 hours per week, on top of their gruelling work and study schedules. Apart from the 16-degree water of the English Channel, other challenges include negotiating sewage, freight ships in one of the world's busiest waterway, and stinging jellyfish.
We at CRBF sincerely thank Sam, Chris and Matt for their generosity of spirit, and their thoughtfulness, and we wish them a safe and healthy passage throughout their swim.
TO DONATE – PLEASE GO TO THE LINKS BELOW
https://crowdfunding.sydney.edu.au/project/13264 –
The Poche Centre for Indigenous Health at the University of Sydney was established and funded in 2008 by philanthropists Greg Poche AO, Kay Van Norton Poche and their friend Reg Richardson AM.
The Poche Indigenous Health Network was created in Australia to make the most of the efforts and resources of the individual Poche Centres for Indigenous Health and to focus on issues best dealt with at a national level.
The Cooper Rice-Brading Foundation link may be found be going to: