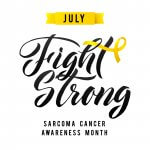 Yesterday marked the first day of global sarcoma awareness month. A month where we take the time to remember and to honour the memory of those who have needlessly lost their lives to this cancer; provide unconditional love and support to those you may know going through gruelling treatment regimes; and to provide hope for the future for those who are yet to walk this road, and those undertaking the battle of their lives, by talking about this cancer, and donating to sarcoma research.
In Cooper's memory, we ask you to assist CRBF in realising his vision of changing the trajectory of this insidious disease for young sarcoma patients.
100% of all donations received by CRBF will be directed to pipeline research projects, thus ensuring hope for the future for those living with a sarcoma diagnosis.
A critical need exists to positively alter the change to survival outcomes which have not shown improvement in over 30 years.
Complex medical questions surrounding sarcoma need answers, and the answers lies in research for this cancer.
Read more about sarcoma by pressing on the link below
https://canceraustralia.gov.au/system/tdf/publications/sarcoma-fact-sheet/pdf/sar_sarcoma_factsheet_0.pdf?file=1&type=node&id=6066