To mark global sarcoma month, CRBF will be conducting a series of interviews, and publishing tributes to patients and loved ones affected by sarcoma, in an effort to portray the human side of this insidious cancer.
I met Henrietta Miller late last year, after she took the time to reach out to me, when I was in the depths of despair after Cooper's passing.
Henrietta is a gentle and quietly spoken woman, with a huge capacity to give to others. I was pleased I had accepted her invitation to visit, as she is one of the few people who can say they deeply understand the myriad of emotions, and the never ending wall of grief you experience after the loss of a child.
Henrietta's son Elliott had tragically passed away prior to Cooper, and was treated within the confines of Chris O'Brien Lifehouse as Cooper was, and treated by many of the medical team who had also treated Cooper. It was indeed not lost on me our commonality was borne through deep seated tragedy, and at times throughout our conversation, and through the tears, I found myself wondering why it was we were brought together by circumstances that really should never be? Our boys were bright shining lights at the very beginning of the wonderful lives ahead of them.
I will never forget Henrietta's serene manner, and the selflessness, and kindness she showed our family, by reaching out to us at a time when we were at our lowest ebb. It must have been very difficult to do so, knowing that it would undoubtedly open wounds of the past, yet this amazing woman put her own emotions aside to help others.
Today we celebrate the essence of Elliott Miller, in Henrietta's words…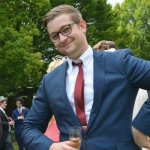 Elliott John Miller 27/12/94 – 01/03/16
Elliott was a second year arts student at Sydney University majoring in performance studies. His was a fairly typical lifestyle for such a student, many late nights with the occasional burst of essay writing to just about keep things on track. Taking every opportunity to perform, he spent the better part of 2014 concurrently rehearsing at least five shows and dedicated 2015 to his burgeoning career as a director. The only complaint anyone could ever make about Elliott was really a complaint about a lack of hours in the day in which to gain an audience with him.
In August 2015, Elliott had been complaining of a sore jaw when he ate, but trips to his dentist and x-rays had not shown anything untoward. In mid September though, a specialist dentist finally ordered an MRI scan which revealed a tumour. Following a biopsy his initial cancer diagnosis was Ewings Sarcoma, but this was later changed to an embryonic Rabdomyosarcoma; an incredibly rare form of childhood cancer, one that only affects about seven adults a year worldwide.
In October 2015, with all our lives inextricably changed forever, Elliott began chemotherapy and radiotherapy at the Chris O'Brien Lifehouse, under the care of Professor Tattersall. Unfortunately, despite everyone's best medical efforts, nothing could halt his tumour rapidly spreading from his jaw to his lungs where it continued to grow.
Elliott died on 1 March 2016, a little over four months after his diagnosis. He was 21 and on the cusp of an incredible future. Elliott performed right to the end, and never lost his sense of humour or the ability to saunter onto any stage, own it and make people laugh. Whether as a stand-up improv comedian, actor or director, Elliott never failed to impress.
He and his enormous potential are deeply missed by all his family and his extraordinary number of friends.