Monday – REST
Tuesday – 1:00 Swim, 1:00 Run (Z2)
These sessions seem to be going quite well. The swimming stroke is getting more efficient with each passing session and the runs are probably my favourite training efforts at this stage.
Wednesday – 0:45 Bike into 0:30 Run (Z2)
Today was my first time ever riding with cleats, and first outdoors training cycle of the campaign. I was warned about the difficulties of twisting out of the cleats to stop and balance myself and as such, completed about 15 minutes of practice in our downstairs garage area before venturing out into the real world. I felt like an 8 year old learning to ride again and hit the deck at about the same rate. I assume this is what all professionals do regularly.
As part of a CRBF challenge, I sent out the challenge for supporters to bump the fundraising total up from $6.2k to $6.5k in a couple of hours. In exchange for this, I'd shave my hair into a Mohawk and sport it during the whole of Anzac Day. $300 worth of donations later and I looked maybe as
unattractive as I ever have in my life (and that's saying something). Thank you once again for all your tremendous support! Keep telling your friends and family about the amazing cause!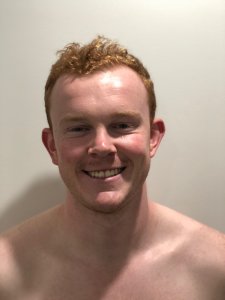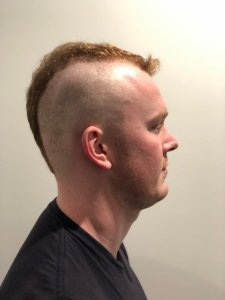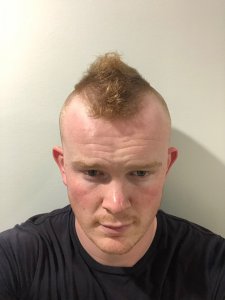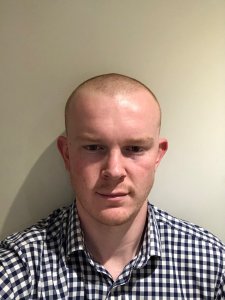 Thursday – 1:00 Swim, 1:15 Bike (100rpm+) (Z1)
The swim was boring but relaxing. Completed this cycle indoors after the trials and tribulations of the inaugural outdoors cycle yesterday, but also because the Manchester Derby was on and I had to watch. Time flew by with that on… 2 – 0 to Man City. I'm pretty sure Bernardo Silva is not of this
world but I will continue to investigate.
Friday – 1:00 Run (Z2)
This was my first run with a shaved head following the success of the donations over the past week. I realised that I really must wear a cap for every run whilst in this state for a couple of reasons:
a) Sunburn prevention
b) My head gets too cold
If those two concerns don't convince you that I'm Ironman material, then nothing ever will…
Saturday – 3:00 Cycle (Z2)
Nothing too interesting to report. Handlebars got a little loose and started to droop forward/down near the end of the ride which made things interesting/extremely dangerous.
Sunday – 1:30 Run (Z1 – Z2)
This was my longest week of work, hours-wise so far. I'm feeling great and the ratio/breakdown of training days for each discipline and the Monday rest days in my training plan seem perfect at the moment. Definitely need to do more stretching though. The coming week has 12 hours of training in
store and Monday will represent 31 weeks til game day.
If you have any suggestions or ideas to help raise awareness for sarcoma research and/or the work CRBF do, please shoot me a message on social media or via email (jack.racklyeft@gmail.com).
Please share this, or any information from my donation page below to anyone and everyone you can. I have no doubt that slowly but surely, we will start to raise awareness and to make a truly positive change:
https://donorbox.org/jack-s-ironman-for-sarcoma