Monday – REST
Tuesday – 1:00 Swim, 1:00 Run (Z2) with 4 x 2min Z4 sprints @ 1min
First swimming session after the lesson on Sunday. Just did 20 x 100m sets, focussing on:
Breathing earlier in my stroke
Not diving my hands too deep into the water with each stroke (i.e. allowing me to "catch" more water, higher on each stroke)
My technique got exponentially better as the session went on and I could really feel a big difference when everything was falling into place with the adjustments. The run was solid and ran some good times at a good HR.
Wednesday – 0:45 Bike into 0:30 Run (Z2)
Nothing interesting to report. Slowly picking up speed on the bike
Thursday – 1:00 Swim, 1:15 Bike (100rpm+) (Z2)
The swim was tonnes better than Tuesday's. Felt like I was far more efficient throughout the whole session which is a great outcome. I'm finding that my muscles are taking some time to adjust to the more elevated catch, but they were certainly less fatigued then they were on Tuesday.
It was a cold evening but had a great cycle around Iron Cove. Work colleague Tyron has gifted me about 4-5 sets of his cycling gear and it makes a big difference, particularly in the cold where the arm warmers do wonders. Cheers mate!
Friday – 0:45 Run (Z2)
Had a football game this evening which meant I had to scrap one of the sessions. Chose the swimming session and used the run as a good warmup for the football game. Knocked the top off of my knee wound again. The constant dressing of it to avoid ruining every set of pants I wear to work moves into its third week…
Saturday – 1:30 Run (Z1 – Z2)
Completed an early morning 1hr run before a boxing class which went well, and the remaining 30 mins in the afternoon with my mate who's training for the City2Surf, having never done any long distance running. Seems to be ticking along well.
Sunday –2:00 Cycle (Z2)
The plan was to ride from Annandale out to Belrose to meet up with Lexie, her brother and his wife + baby. I feel like people cycle this route a bit, but I hated it. So much traffic and so much that could potentially go wrong. Speaking of which, got clattered by a lady opening her back right passenger door as I cycled past going up towards Boundary Rd around Willoughby.
She opened without looking from her parked car and I slammed into the door and flew off to the right onto the active traffic lane. Thankfully, as I tumbled onto the road there were no cars behind me so I managed to not get run over today. Pretty traumatising experience to be honest and I suspect I'll be sticking to the safety and security of the usual Iron Cove loop from now on… Finished the ride cautiously…
To round it all off, as I was arriving home a spoke on my rear tyre broke so I'll have to look around for some new ones in the coming days.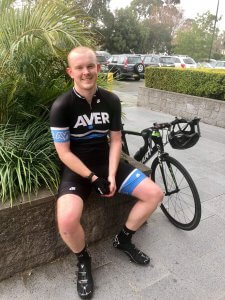 25 weeks until game day! Next week I've got a nutritionist appointment lined up to help shred some poundage and improve what I'm eating before the long rides/runs. Social media competition coming in hot also!
As always, if you have any suggestions or ideas to help raise awareness for sarcoma research and/or the work CRBF do, please shoot me a message on social media or via email (jack.racklyeft@gmail.com). Please share this, or any information from my donation page below to anyone and everyone you can. I have no doubt that slowly but surely, we will start to raise awareness and to make a truly positive change:
https://donorbox.org/jack-s-ironman-for-sarcoma