Gabrielle Shaw became known to our family after the airing of Cooper's story on the ABC 7.30 Report.
Gabrielle's story resonated with me instantly and deeply, as she, like Henrietta Miller – Elliott's mum, and I, had all lost our precious sons at such a tender age, to this insidious cancer.
A great deal of commonality existed between our boys, and the valiant way they chose to face this cancer, whilst continuing to live life to the full. Each faced enormous physical andmental challenges, endless pain, an each remained strong and positive throughout, often protecting those they loved from the true reality of sarcoma.
As we each live our lives in a highly altered state, trying to make sense of our tragic losses – each knowing we never will, we also acknowledge how blessed we were to have witnessed the fine young men each of our sons had all become, albeit for such a brief moment in time.
We thank Gabrielle and her daughter Brianna for their participation in this forum, and for allowing the outside world to share a snapshot of the challenges young patients and their families face from the moment a sarcoma diagnosis is made.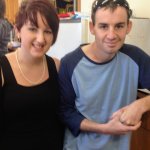 Gabrielle Shaw writes candidly about her cherished son Adam
Adam was diagnosed with Cancer in September 2013. He was 21.
Adam had been experiencing pain in his groin during and after he played football. He was treated by a physiotherapist a couple of times, but found it wasn't helping. One night he rang his sister Brianna saying he was in a lot of pain and that his mobility in his leg was limited. She advised him to go to the Emergency department and from there everything moved very quickly.
Tests showed a walnut sized tumour in Adam's right pelvis. At that point Adam was living in country Victoria and we had to wait three weeks until we were able to get an appointment with the clinic at Peter MacCallum Cancer Centre in Melbourne. By this time Adam weighed 44 kilograms and his tumour was the size of a football. He was in a wheelchair due to extreme pain and because he couldn't walk. His right knee was pinned up against his chest as the tumour encroached on nerves, muscles and blood vessels.
Adam was admitted to hospital as an inpatient, where he remained for nine weeks. At first it was unclear exactly what form of Cancer Adam had. Eventually he was diagnosed with a Malignant Peripheral Nerve Sheath Tumour, which is a form of Sarcoma on the nerves.
When Adam was first diagnosed I was working as a teacher at an International school in Hanoi Vietnam which complicated everything a great deal. Leaving my life behind in Hanoi, I flew home to care full time for Adam. When he was first admitted to hospital I didn't have anywhere to live. Because Adam was an adolescent he was through the amazing people at On trac at the hospital and our social worker soon secured me a room at the incredible Vizard House in East Melbourne.
I learnt a lot about the good and beauty in others from my nine weeks at Vizard House. The most important lesson was compassion and empathy knows no limits. Regardless of how horrendous each persons day had been with their sick family member, everyone always found time to listen to, empathise, comfort and discuss others day and stories.
We discovered very quickly just how sick Adam really was and within days of admittance he was moved to the ICU with a severe infection within the tumour. We were informed at that point we may or may not have 24 hours left with him. Adam had to decide such things as should he freeze sperm for the future, should he sign a DNR, (which he never did because he couldn't make that decision) and somehow process even a tiny amount of what our treatment team was advising us to do. Thankfully after a few days Adam was moved out of ICU into a normal ward and thankfully due to his age he always had a room to himself. Adam and I soon got into our daily rhythm. He was too sick to be mobile for the first month, so would get transferred to treatment and tests in his bed, with me accompanying him everywhere. I soon learnt what every sound, whimper, groan, cry or facial expression meant. This became vital as Adam was always hesitant to request breakthrough pain relief when he required it and I did become his voice.
The treatment team decided Adam was too sick for chemotherapy and it didn't have a good record for treating Adam's form of Cancer. So, Radiotherapy was the decided treatment in the hope it would shrink the tumour enough to make surgery a viable option. Adam had two rounds of radiotherapy. We were told due to the size and positioning of the tumour it was going to be difficult and the best outcome, if it was operable Adam would lose his right leg. Early December Adam had a Pet Scan to see if the first round of radiotherapy had shrunk the tumour. Regrettably during the Pet scan metastasis were discovered in both his liver and his lung.
Adam was discharged in December and we were asked to return after Christmas for more pet scans to find out whether the radiotherapy was going to make surgery possible. Unfortunately, the answer was no and we had to face the reality any future treatment was palliative. Trials were discussed with the treatment team, but Adam was just too sick. Adam chose to spend the majority of the two months he had remaining at home, with intermittent trips and stays in hospital. The radiotherapy had damaged a large portion of Adam's skin on his pelvis and then the tumour broke through the skin. We had a palliative care nurse visit daily to debride the wound sight and change the dressings.
On the 17th February 2014 we were told Adam had approximately a week to live. The tumour had perforated the bowel and he had to choose whether he wanted to die at home or at hospital. How does someone of his age ever make that decision? Adam chose to die in hospital. He chose to go to the hospital on the 21st February and we were with him around the clock. The 22nd we were told we should say what we wanted or needed to say as he wasn't going to be lucid for much longer. On the morning of the 25th February at 5AM Adam woke screaming. He was haemorrhaging from the open wound.
My beautiful boy died at 8:30 PM on the 25th February 2014. He was 22 years of age.