Paul Roos is a former Australian Rules footballer and senior coach, who played for both Fitzroy and Sydney during the 1980s and 1990s respectively.
As a player, Paul was rated as 'The best footballer in Australia' (Holmesby & Main, 2011) and was named at centre half back in Fitzroy's Team of the Century.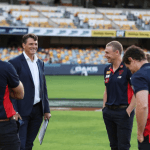 Paul was inducted into the Australian Football Hall of Fame in 2005, and was named in the prestigious All Australian team seven times.
After his days as a player were over, Paul went on to become a highly successful coach, guiding the Sydney Swans to the 2005 premiership, their first in 72 seasons. In 2013, Paul commenced his coaching tenure with the Melbourne Football Club and has been attributed with overseeing the Demon's return to their glory days of the 60's, culminating in their first finals appearance in twelve years this weekend.
Post AFL, Paul forged a highly successful career in the media together with his immense popularity on the public speaking circuit, represented by agent Nick Fordham from the Fordham Company.
For those who know him, Paul's sporting prowess and media career, are but one part of the story. Paul has always used his currency wisely. We remember fondly how often he would spend time with the kids at the school his boys attended in Sydney's eastern suburbs, shooting hoops, playing handball, or simply stopping to chat to a myriad of young fans, many mornings at school drop off. He always had time for the kids and more often than not, the odd star struck parent, all the while blissfully unaware of the effect he was having on those on the receiving end of his kindness. He always made time for those around him, despite his rigorous coaching schedule.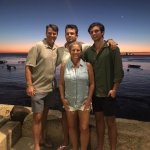 Paul spent many years, and countless hours of his time volunteering as a coach at Easts Bulldogs junior AFL club, changing the lives of the kids who dared to dream. His incredible sense of humour, candour and no nonsense approach endeared him to those he coached and their parents alike. Further to this, throughout his illustrious football career at both the Fitzroy and Sydney Football clubs, he would hear of families who had lost precious loved ones or fans who were in need of light during the very dark passages of their lives, reaching out to them in an effort to make a difference, and remaining connected many years later. These understated and highly meaningful gestures were never for the cameras.
In 2008, Paul was named 'Father of the year ' in recognition of his ability to balance the needs of his family with the responsibilities of managing a high-profile sports team. This was unsurprising to those who knew him, and understood his family was, and remains, the centre of his world.
The Roos family have been united as a team, for as long as we have known them, each doing their bit to make the lives of others so much better. Their love and support of Cooper throughout his treatment and beyond, is something we will never forget, and will be etched in our hearts and our memories forever.
Paul joining us as an Ambassador for the Foundation that proudly bears Cooper's name, is representative of 'Team Roos'.
Paul, we thank you and 'Team Roos' for all you have done, and all you do for the Foundation. Be assured your 'little mate' who incidentally did grow as tall as you, would be so proud to have you, and your family, lend your name to a cause he held so close to his heart.