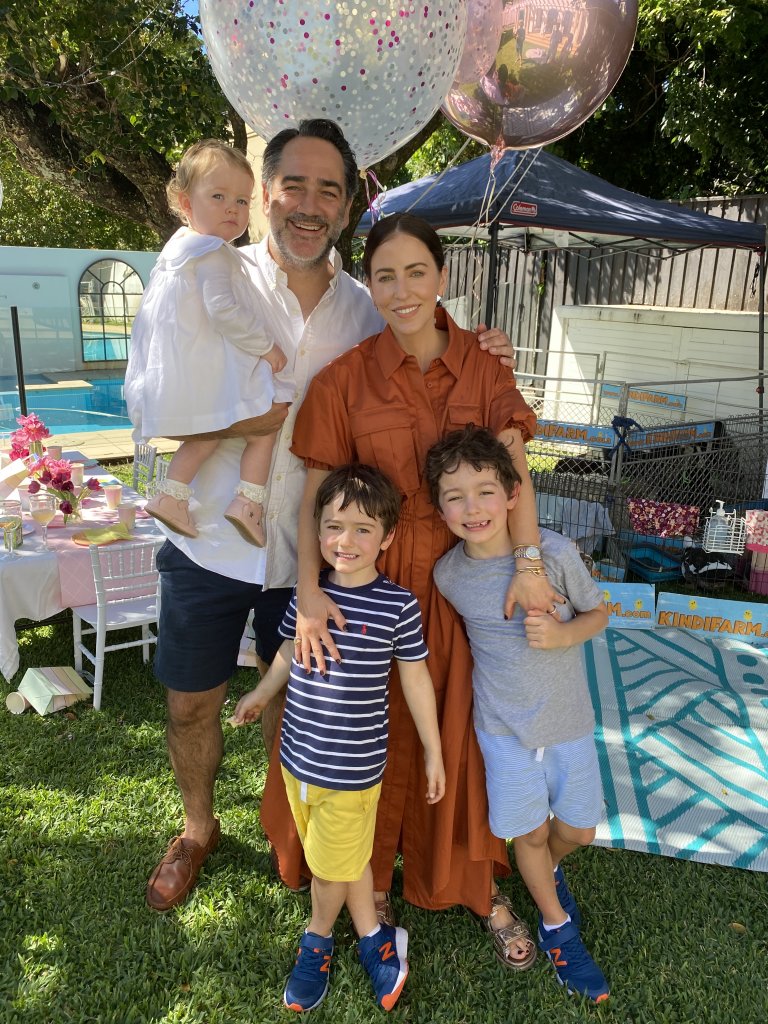 Australian media heavywieght and Nova radio host Michael "Wippa" Wipfli and highly accomplished media public relations executive Cathrine Mahoney came into Cooper's life at a time when he was not keen on letting the outside world in.
He had very little time for anyone outside his inner sanctum of precious few people beyond immediate family.
Cooper's condition had been deteriorating swiftly and savagely, and the outside world, even those closest to him throughout his brief life, were shut out. He did this to protect his friends. He wanted their memories of him to be positive, and not what he had become at the hands of sarcoma.
The exception to the rule were 'Cath' and 'Wippa.' Both very quickly became part of Cooper's circle of trust and an extension of family.
Coop had a strong nose for genuine people and throughout the 18months from diagnosis to treatment, he ran his own race. He did not want to become the "boy with cancer" that elicited pity, he was hellbent on being the survivor, so becoming a token cancer patient for someone else's personal gain, was never on the cards. He had avoided those who sought his company for pity, causing offence to some, but always sticking to his moral compass. He learned very early in the piece – Cath and Wippa were the real deal.
Both made Cooper laugh and times spent with them individually or together, were highpoints for Coops. Quality time spent with him away from cameras and media, resulted in a surprisingly strong bond and swift bond forming between the three. Unique as it was special. Each brought unbridled joy to his life when little else could.
Unsurprisingly, Cath and Wippa's lives were impacted greatly with the news of Cooper's passing, and from where our family stood, we couldn't have blamed them for closing the door, and moving on. But neither chose to.
Instead, both continued with unwavering love and support for our family, at a time when we were at our lowest ebb. As a special aside, it wasn't long before their respective families also became part of our lives, extending that very special bond, and providing enormous comfort through a myriad of highs and lows.
As we fast approach four years without Coop, Cath, Wippa and their families remain firmly by our sides. These remarkable friends continue to step up and do what they can to preserve Cooper's legacy.
We have called on Cath and Wippa so often to assist with various projects along the way, and never once have they faltered.
Last year, both participated in the ground-breaking podcast series "Lets talk about sarcoma", incepted and produced by Cath, giving up hours of their time and expertise to craft a finished product that resulted in a global distribution, and a meaningful tool for patients and families. Neither would accept payment in any form. Yet another labour of love, but one that held so much gravity.
Only two weeks ago, Cath and the highly talented Sarah McGilvray, who appears side by side with Wippa on the highly rating Fitzy and Wippa breakfast show, together with her role as co-creator of the very successful Nova production, "Not another parenting podcast' performed for our guests at the annual CRBF Mother's Day Breakfast, braving the Covid issues at the time, delivering a flawless and hysterical segment on parenting.
Which brings us to the announcement tonight.
Late last year, an unexpected call from Wippa advised us, albeit confidentially, he was going to take the Foundation with him onto the forthcoming Celebrity Apprentice Australia as his charity of choice. We were simply lost for words, and deeply humbled. We are a relatively new charity (4 years registered) and despite the high-profile charities Wippa could have chosen, he opted to choose the Cooper Rice-Brading Foundation, providing us with the opportunity of a life-time.
Filming for the Celebrity Apprentice Australia was incredibly rigorous over six days, and Wippa continued to burn the candle at both ends while filming took place, continuing is turning up each morning for a 6am start on his highly successful breakfast show, whilst also creating pilots for his production company.
This unspeakably difficult schedule did not only impact Wippa, but his wife Lisa, who was unwavering in her support. So many sacrifices were made by this family over the many weeks of filming, and for this reason, it is nigh on impossible to express our gratitude to Lisa, who at the time found herself juggling two children under the age of 5 and a new baby.
Tonight we have all watched on as Wippa's dedication to advancing sarcoma, his bloody mindedness to ensure a win at all costs attitude, and never ending perpetuation of his very special friendship with Cooper, resulting in a win of enormous proportions. Funds that will make a quantifiable difference in the lives of the patients who are currently living without further treatment options.
We are thoroughly delighted to announce, Wippa's outstanding efforts will be directed to supporting patients and families living with a sarcoma diagnosis, and toward the funding of a pivotal paediatric phosphoporteomic sarcoma specific clinical study through the Zero Children's Cancer Programme, which will be named the Wipfli Family Sarcoma Research Grant. This funding will support the Sarcoma Research Laboratory of Dr. Emmy Fleuren at Children's Cancer Institute. Funds will be allocated to identify activated (phosphorylated) targets in sarcoma patients not covered in any other project, and will build the laboratory evidence needed to ultimately transform research findings and clinical recommendations.
It is impossible to articulate our thanks to Wippa, his beautiful family, for an opportunity which is rarely granted to a charity in its formative phases. This funding will provide the very real possibility of saving young lives, and will start a much needed conversation about sarcoma.
How blessed are we that Cooper left us the gift of friendship with his two special friends and their extended families?